We Serve a Variety of Markets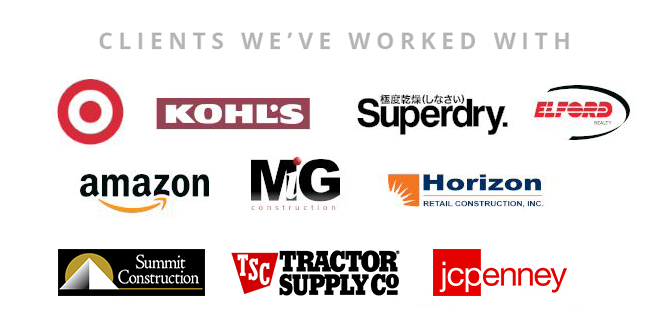 Ground Floor Contractors is a full service commercial flooring company serving a nationwide client base
Construction in the retail, industrial and commercial marketplace is our primary focus. New construction, renovations, and even a simple flooring replacement project is what we are equipped to deliver. Our teams have several years of experience installing all types of flooring and we are partnered with the top suppliers in the country to deliver buying power and efficient installation.
Ground Floor was born out of an increasing need for a flooring contractor with the ability to go anywhere and install anything. Our crews are able to install ceramic, vinyl coverings, concrete polish, cementitious toppings and coating systems. As a union installer, we have the ability to draw on a talented pool of qualified installers and pair them with our superintendents to teach them the additional skills required to deliver our entire product line. Our equipment is top of the line quality equipment that is maintained meticulously to make sure that it is reliable to deliver those tight deadlines. We do keep a surplus of equipment for that potential need should your project be large or have tight time constraints.​
Flooring Industries Served
Retail Industry
Your retail business should make a lasting impression, beginning with the floors your customers walk on. Flooring is an important part of the overall aesthetic and can help set the tone for customers before they even enter the store. By investing in a high-quality, seamless floor that performs well under traffic and frequent cleaning, you can ensure your floors look great and stand up to the day-to-day wear and tear of business. Partner with Ground Floor Contractors to find the right flooring solution and installation for your retail business.
Industrial Environments
Keep your industrial warehouse, production area and traffic aisles in pristine condition with floors that can handle the daily wear-and-tear. Ground Floor Contractors offers a range of durable and easy to maintain solutions such as heavy duty resurfacers, chemical resistant coatings, and electrostatic dissipative (ESD) coatings. From epoxy and polished concrete to seamless matting, Ground Floor Contractors can provide a wide range of options, ensuring that your business has the best floor installation for its needs.
Commercial Environments
When it comes to commercial floors, durability, ease of maintenance and slip resistance are essential for the usability of customers, visitors, and employees. Ground Floor Contractors offers a wide range of solutions that can be customized to fit any type of building or office space. You can choose the right finish, texture, color and even add your logo to create a unique look that will last. With a commitment to quality craftsmanship and proven track record, you can count on Ground Floor Contractors for a flooring installation that is perfect for your commercial space.
General Contractors
It is vital to find the right flooring solution that meets your customer's needs. Ground Floor Contractors is a nationwide commercial flooring company that specializes in providing quality products and services, backed by experienced craftsmanship and technical expertise. We offer a wide range of solutions with the option to customize finishes, textures, and colors to meet any type of building or office space. Our team can help you project manage installation and maintenance, ensuring everything stays on schedule. With Ground Floor Contractors as your partner, you have the peace of mind knowing that you have chosen the right flooring contractor and installation that will last and make sure your customers are satisfied.
Architects & Designers
Need a reliable specialist for your technical flooring installation requirements? Look no further! From expert advice on product guidelines and engineering details to specialized technical support, we have the resources necessary to ensure your project is completed successfully. Flooring decisions play an important role in both aesthetic and safety considerations, so it is extremely important to have a partner that understands the importance of making the right choices. Not only do we provide insights into product longevity, performance, design suitability and sustainability but we can help you stay within your budget as well. With Ground Floor Contractors, you are guaranteed that every detail will be taken care of for a successful completion of your project.
Education & Institutions
Educational and institutional facilities need high-quality flooring to guarantee the utmost safety and comfort for students and staff. From slip resistance and easy-to-clean surfaces to stain resistance, sound reduction, and even customizable solutions for a sterile environment, Ground Floor Contractors has you covered. All the available products have been designed to guarantee maximum durability and long-lasting performance so that you can trust in the safety of your educational facility. Ground Floor Contractors is a company you can trust with your installation.
What should a contractor consider when Choosing a Commercial Flooring Company?
Are you looking for an experienced commercial, retail or industrial flooring contractor?
7 Tips on What to Look for in a Commercial Flooring Contractor so you can choose only the best for your flooring project.
1) Safety Record – Job Safety is paramount to every contractor today. Our safety record remains as one of proudest achievements over the last 5 years. With not even a single lost time incident in the history of the company, we are excited to keep that streak going.
2) Quality Personnel – As a Union company with some of the best training programs available to us for our personnel, our staff comes prepared with the know how to install retail, industrial and commercial flooring of all different types....